Here's a lasagna recipe that I adapted for the Instant Pot. I chose to use a springform pan, instead of making the lasagna directly in the Instant Pot pan. I've seen other recipes made that way, and many people complain that they tend to be runny or soupy because of the extra water used for pressure cooking. I initially thought there would only be two servings, in what appeared to be a tiny springform pan, but when I served only a quarter of a pan, I changed my mind! If you serve anything else with this (salad, bread, etc.), it can easily be six or eight smaller servings. Enjoy!
Here's an affiliate link to the springform pan I bought from Amazon.
Ingredients for 4 to 8 servings:
½ lb ground beef
½ lb ground Italian sausage
16 oz can tomato sauce
¼ cup water
1½ Tbsp Italian seasoning
½ tsp garlic, minced
¼ tsp red pepper flakes
¼ tsp black pepper
5 oz Ricotta cheese
4 oz cream cheese, room temperature
1/3 cup Parmesan cheese, grated
¼ tsp nutmeg
6 oz no-boil lasagna noodles
1 1/3 cups Mozzarella cheese, shredded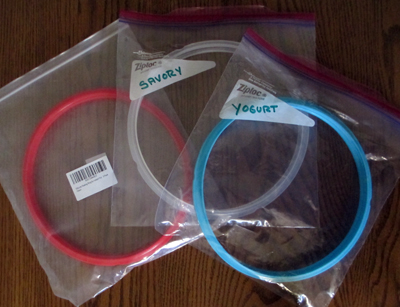 Just a quick note on the Instant Pot sealing ring. Since I've mostly used the Instant Pot for making yogurt, I didn't realize that the sealing ring would take on the odor of garlic or spices. I found this out after my first batch of chickpeas with garlic. I quickly ordered a three pack of sealing rings from Amazon (yay for Prime!). The rings are different colors, so I use the blue one for yogurt and the original clear one for savory recipes, which leaves a red and another clear for future use. I labeled a gallon Ziploc bag Yogurt and one Savory to store the rings in, so I don't mix them up. Here's an affiliate link to the one's I bought from Amazon.
For other brands of electric pressure cookers:
If your model doesn't have a saute function, you can use a pan to brown the meat over medium-high heat before using it in the recipe.
The Instant Pot trivet / stand has fold-able handles that can be used to lower / lift items out of the pan. If yours doesn't have this feature, you can make a sling out of folded aluminum foil strips to cradle the springform pan so you can lower and raise it without getting burned.
Please make sure the pressure has dropped before opening your pressure cooker!
If you have questions, comments, or suggestions, please post them in the video comments on YouTube. Thanks!
Did you enjoy this post? Learn how you can support our blog, without spending a dime!