Here's my Chicken Burrito Bowl recipe for the Instant Pot. A burrito bowl is all your favorite burrito fillings minus the tortilla. This is an easy recipe, that's perfect for a quick meal after a busy day. From prep to table, this can be ready in less than 45 minutes. Enjoy!
Ingredients for 6 to 8 servings:
1 Tbsp olive oil
1 medium yellow onion, diced
1 lb boneless, skinless chicken breast, cut into ½ to 1 inch chunks
1½ cups low sodium chicken broth
1 can (15 oz) corn kernels, drained
1 can (15 oz) black beans, drained and rinsed
1 packet (1¼ oz) taco seasoning
1 jar (16 oz) medium or hot salsa, depending on how spicy you like things
1 Cup brown or jasmine rice
1 Cup shredded Mexican blend cheese or sharp cheddar chesse, divided into 3/4 cup and 1/4 cup
Garnish: tomato, chopped
sour cream or greek yogurt
cilantro, chopped
tortilla chips

Instructions:
– Press the "Saute" button and add the olive oil to the inner pot. Let heat for 2 or 3 minutes.
– Add the onion and cook until softened, stirring occasionally, for 3 or 4 minutes. Press the Cancel button to turn off the Instant Pot.
– Add chicken, chicken broth and taco seasoning and stir to mix well.
– Add the corn, black beans, and salsa, then stir to combine.
– Sprinkle the rice over the top of the mixture, but do not mix it in (this will help prevent the rice from burning to the bottom)
– Make sure you have your sealing ring installed in the lid, then close and lock the lid. If you've got multiple sealing rings, I'd suggest using one that's for savory or spicy food.
– Turn the Steam Release Handle the top of the lid to the "Sealing" position
– Press the "Pressure Cook" button, and set for High pressure, then press the + or – buttons to adjust the time to 10 minutes.
– It should take 10 to 15 minutes to come up to pressure and then begin the 10 minute countdown.
– When the timer completes and the Instant Pot beeps; it's done. Press the Cancel button to turn off the Instant Pot
– Carefully turn the Steam Release Handle to the open position to quick release the pressure. Make sure your hand is off to the side, not directly over the vent.
– Unlock & open the lid.
– Add 3/4 cup shredded cheese and stir to mix it in completely.
– Divide into bowls and top with additional shredded cheese, tomatoes, sour cream (or greek yogurt), and, if you like, garnish with cilantro. The toppings are just suggestions, so feel free to swap them out with your favorites.
– Serve with tortilla chips.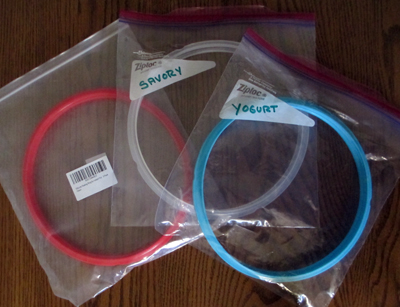 Just a quick note on the Instant Pot sealing ring. Since I've mostly used the Instant Pot for making yogurt, I didn't realize that the sealing ring would take on the odor of garlic or spices. I found this out after my first batch of chickpeas with garlic. I quickly ordered a three pack of sealing rings from Amazon (yay for Prime!). The rings are different colors, so I use the blue one for yogurt and the original clear one for savory recipes, which leaves a red and another clear for future use. I labeled a gallon Ziploc bag Yogurt and one Savory to store the rings in, so I don't mix them up. Here's an affiliate link to the one's I bought from Amazon.
For other brands of electric pressure cookers:
If your model doesn't have a saute function, you can use a pan to sweat the onions in the olive oil over medium-high heat before adding it to the pressure cooker, or you can just toss it in raw, it'll still get cooked. Sweating the onion softens it and draws out its natural sweetness without allowing it to take on any color.
If your electric pressure cooker doesn't have a pressure cook option, similar to what's shown in the video, please let me know in the YouTube comments so I can figure out how to help make it work for you.
Please make sure the pressure has dropped before opening your pressure cooker!
If you have questions, comments, or suggestions, please post them in the video comments on YouTube. Thanks!
Did you enjoy this post? Learn how you can support our blog, without spending a dime!